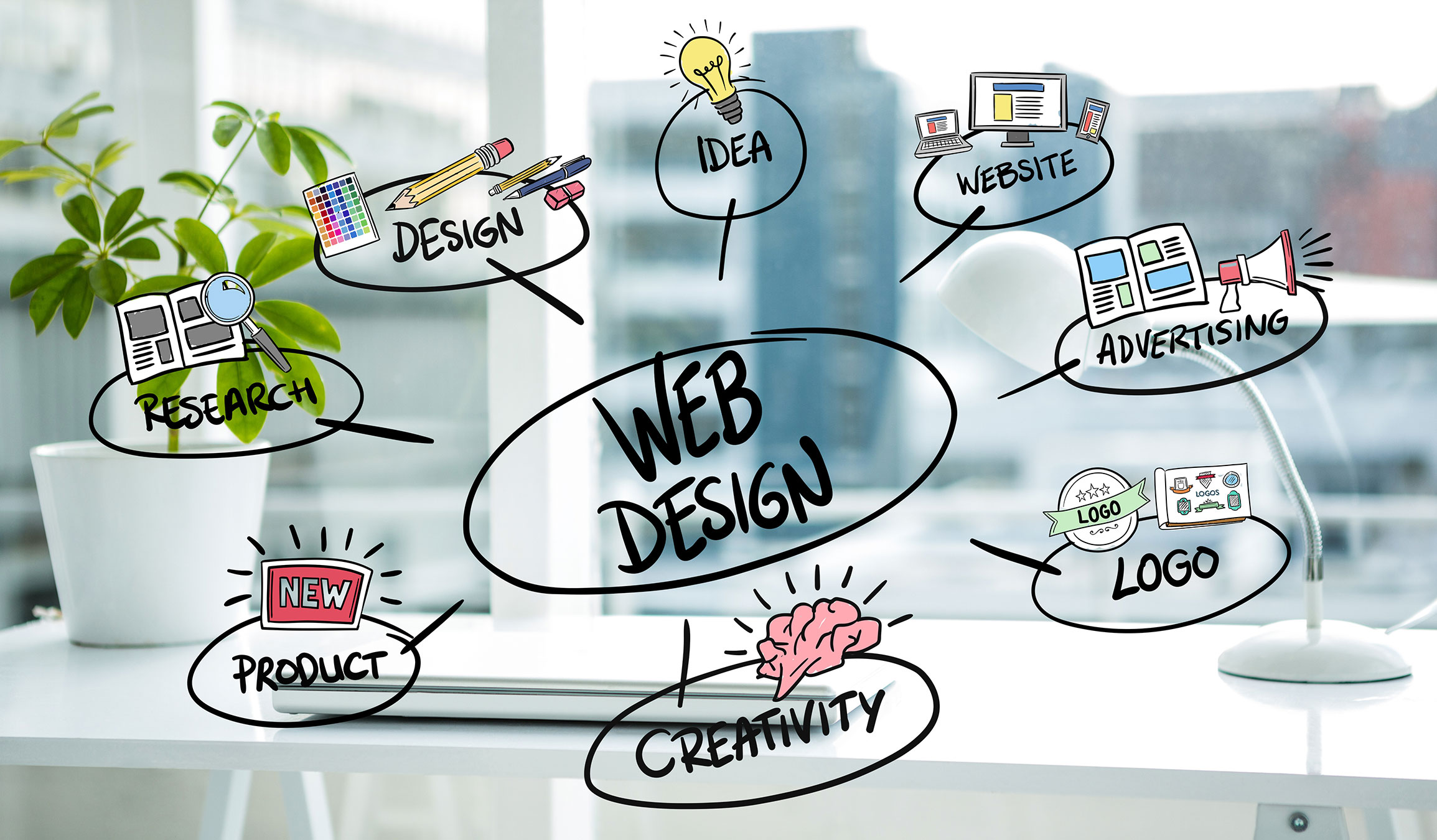 Creativity is at the heart of all we do, and our agency offers a comprehensive range of high-quality web design services including advertising campaigns, prospectuses, corporate literature, branding and logos for a comprehensive and coordinated approach that pervades right across your brand. Whatever your business or industry, we can work closely with your organisation, tailoring our services to meet your individual needs and drafting a bespoke approach that meets your goals and objectives.
What Is Web Design?

Web design is a highly creative process which involves the collection, arrangement and implementation of ideas based on specified principles to achieve a clearly defined purpose. Using many identical visual elements as those used in traditional design forms, web design uses a combination of aspects to comprehensively create an engaging user experience that will boost your brand's reputation. Some of the key elements include:
Layout – the arrangement of text, adverts and graphics so that viewers can easily find the necessary information with a single glance.
Colour – by choosing the right colours to suit each individual project, a specific effect can be achieved to attract users and appeal to their visual senses.
Graphics – using icons, art, photos and logos to enhance the user experience of your site. When used correctly, the page will be visually appealing without being slow loading or congested.
Fonts – choosing the right font to convey your brand's message is essential to ensure that your audience obtains the correct impression of your company and that they have a positive and user-friendly experience.
Content – design works in tandem with content to enhance your site's message through a mix of text and visuals. All content must be SEO optimised with the right keywords so that it can harmonise perfectly with the visual experience your site is providing to its target audience.
Why Is Web Design Important?
Of course, a professional and effective web design makes your site attractive and visually appealing, however, there is a lot more to a quality web design than simply aesthetics. The end user is the most important element in any web design project, and ensuring a fully user-friendly experience is the best way to ensure that your site sees return traffic and maximises its conversions. Some of the key elements include:
Ease of navigation- menus, navigation tools and the site's architecture itself all need to be created by taking into consideration the way in which your target users search and browse for information. If users are unable to move efficiently and speedily around your site to find the details they need they are unlikely to become customers.
Multimedia – by including relevant audio and video stimuli in web design your users will be better able to understand the information you provide in a quick and easy way, spending longer on your site.
Compatibility – web pages must be designed so that they work equally well regardless of the operating system or browser that is being used. If your site cannot be viewed properly by your target audience you will miss out on vital sales.
Technology – Today's advanced technology allows for innovation and movement to be added to your company's site, and harnessing this potential ensures your web pages are professional, dynamic and fresh enough to appeal to the viewer.
Interactivity – providing a quality user experience requires user involvement and participation, and by adding opinion polls and comment boxes, visitors can be converted into customers by using this tool to encourage them to sign up for newsletters
What Are The Benefits Of Quality Web Design?
Today's consumers have ever-higher demands in terms of what they expect from their online user experience. This means that if your brand is to stay competitive in the modern marketplace it must have a web design that is inventive and yet intuitive enough to meet the needs of its visitors. With the help of experts in the field of web design, your company can enjoy the following benefits:
SEO – quality web design can boost the ranking of your business in the search engine rankings by playing a key role in the SEO process. The speed of loading and ease of use ensures that the search engine bots can crawl through the content and index it easily, ensuring that your site is accurately ranked.
Reporting and analytics – we can use our skills in the web design industry to obtain a better understanding of how users are interacting with your site and plough that information back into future strategies.
Branding – With a quality professional web design, your business will develop, establish and maintain a strong brand identity which will pervade every design element of your site. By expressing your company's cohesive brand not only with your site be easier to understand and navigate but it will also offer customers a better experience and a better awareness of what your brand is about.
How Can We Help?
Our skilled team are able to create engaging and user-friendly web designs that have attractive interfaces and which deliver on all of your brand objectives. We work in close conjunction with your team so that we obtain a deep understanding of your company, your target audience and your unique needs so that we can recommend the best solution for your organisation. Modern technology is moving rapidly, giving you increasingly powerful opportunities to present your services, products and brand as a whole and to engage more effectively with your customers, both new and pre-existing in a range of ways.
Effective web design ensures your online presence remains as strong as possible for maximum trade and revenue. We can develop a site that perfectly captures the essence of your brand with consistency across its channels and with maximum potential to attract fresh customers while retaining your existing ones.
We are passionate about web design and always take the greatest pride in the work we do and the results that we achieve for our clients. You can depend on us to create a successful site for your brand using only the latest and most effective tools and practices so that you can engage fully with your target audience and enjoy optimal success.